The May 8th, 2018 Santa Clarita city council meeting was as contentious as it was lengthy. Agenda item sixteen was up for discussion, having been suggested by Councilman Bob Kellar at a previous meeting on April 10th, 2018. Item sixteen was about whether the city should officially file an amicus brief in support of a federal lawsuit against the state of California over SB 54, the "California Values Act." The bill, passed in 2017 and signed into law by Governor Jerry Brown on October 5th, 2017, limited the sharing of data with federal immigration authorities under certain conditions. It also curtails the usage of local resources for enforcement of federal immigration laws. The law has become a catalyst of the anti-immigration movement, and has resulted in disorderly conduct at city council and county supervisor meetings around the state of California.
A divisive law, and largely misrepresented by those with strong beliefs, SB 54 is nonetheless hotly debated. At several Santa Clarita city council meetings after its passing, resident Bill Reynolds used the public participation time to urge the council to take action against it. On April 10th, he opened by discussing the recently completed "Fallen Warriors Monument," a granite wall engraved with names of soldiers from Santa Clarita who were killed in combat. He evoked the supporters of the monument, whom he called the "patriotic community," and said they were "[..] monitoring my next issue." Reynolds implored the council to sign a proclamation "declaring that the city of Santa Clarita opposes illegal alien immigration and providing them sanctuary." With the discussion of the proclamation, Reynolds also relayed that the mother of a member of his platoon had died that very morning. He told a story of the man, "Bill Guyer," and how he had died in combat. Reynolds reportedly attempted first aid, but was unsuccessful. In the retelling of the story, Reynolds included graphic detail that was seemingly designed to tug at the council members heartstrings and invoke an emotional reaction.

Our community lost 49 men in war who paid the ultimate sacrifice protecting our country, our freedom, our federal laws, our constitution, and our sovereignty. They did not perish protecting illegal aliens in sanctuary cities.

Bill Reynolds, April 10th, 2018 City Council Meeting
The story nonetheless moved Councilman Bob Kellar, who asked the discussion of an amicus brief be added to the agenda for a future council meeting. The other four members of the council acquiesced. News of the decision quickly spread, and several organizations coordinated members to email the council messages of support, and to implore people to attend the meeting in person. These groups include, Federation for American Immigration Reform, or "FAIR," Fight Sanctuary State, Family America Project, Beach Cities Republican Club, We The People Rising, California in MassResistance, Make America Great Again inc, Latinos 4 Trump, and many others. Leaders and affiliates of the group also helped to spread the message on social media, and forwarded emails for members to copy, paste, and send to the city council.
We were given copies of the emails sent to the city council regarding SB 54, as well as speaker and comment cards from the May 8th 2018 meeting. There were 358 emails in total, which were analyzed for their position on SB 54, and categorized. Speaker and comment cards were sorted by location. A total of 68 speaker/comment cards were found to be from persons foreign to Santa Clarita. A not insignificant number of the emails were also from persons foreign to Santa Clarita, and were also copied from a template. Many emails in support of the motion to file an amicus brief were filled with racial epithets, long debunked myths, and conspiracy theories that emails in opposition were fake.
The Emails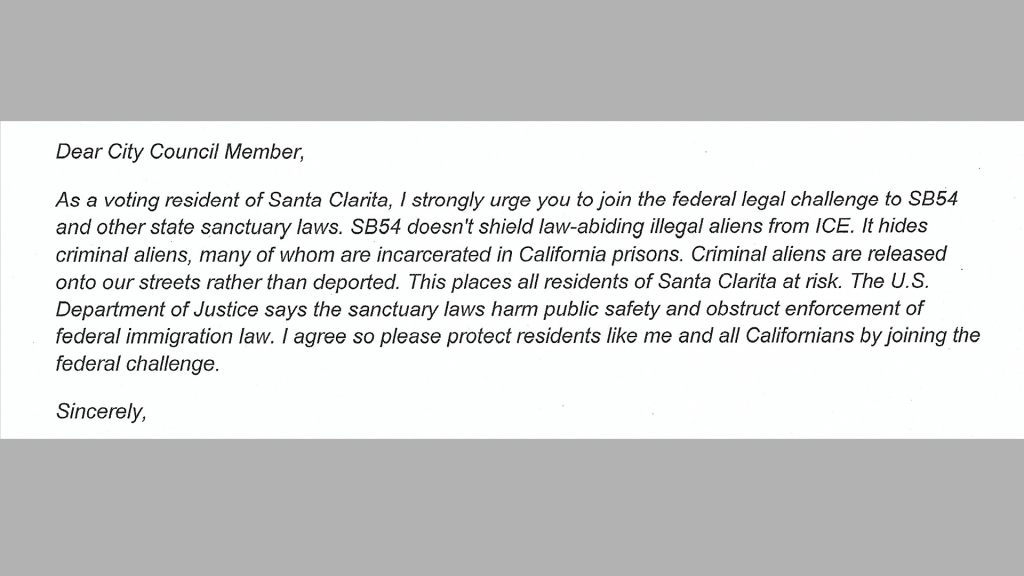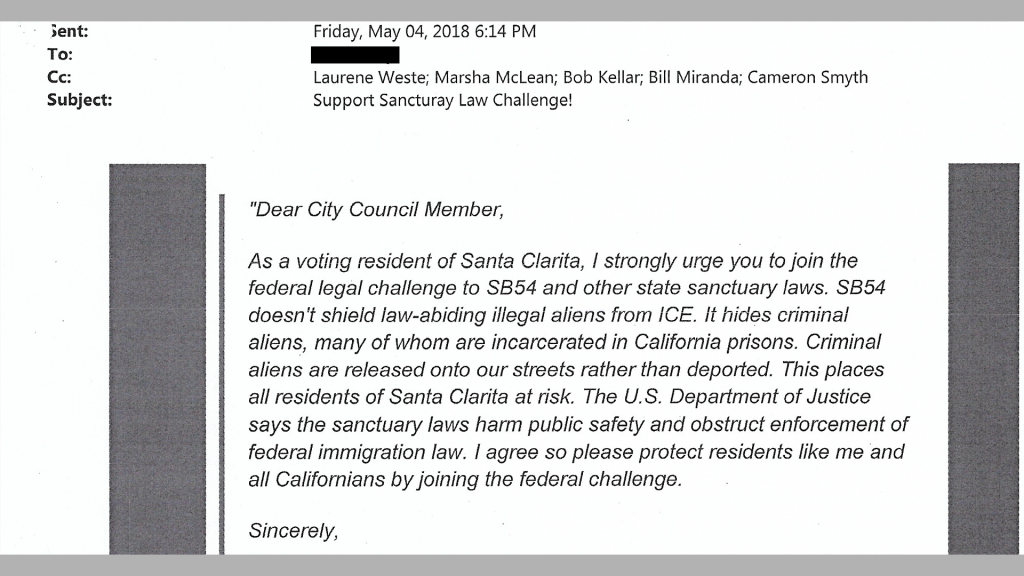 The excerpt above shows a copy of one of the templates used to bombard the inboxes of the city council. In several instances, the template was "screenshotted" and then sent to the council nearly verbatim, as seen on the left. On a few occasions, senders customized the template message by adding information about their military status, or the length of their residency in Santa Clarita. Others dropped the pretense of being a voting resident.
Below are some other notable emails sent to the city council.
An email from a resident of Quartz Hill, also claiming to be a resident of Santa Clarita

An email from a resident of Palmdale

Man from Oceanside who failed to change the signatory from "Your Name"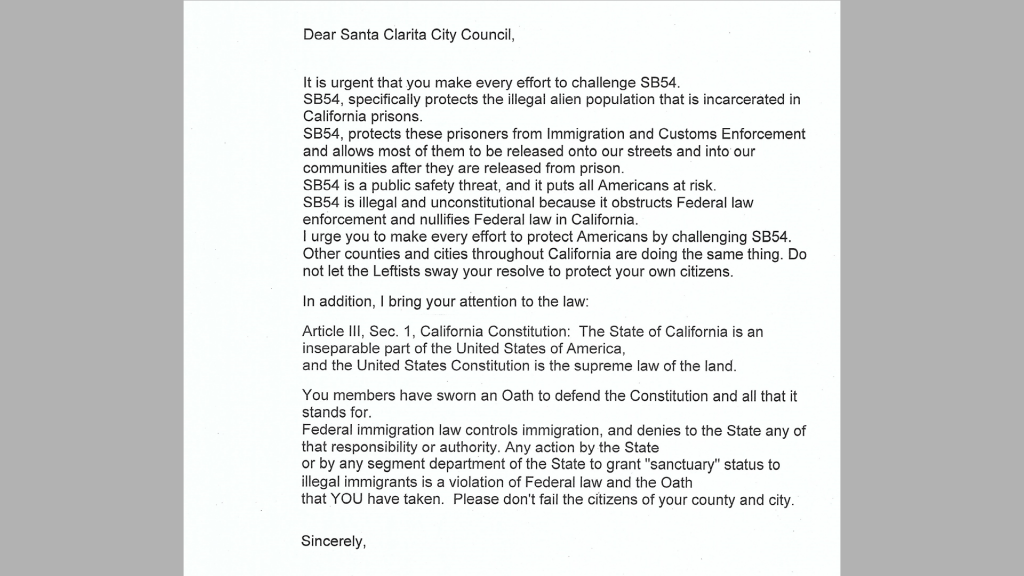 Of the 358 emails sent to the city council, 308 were in support of the city motion to file an amicus brief. Of those, at least 60 were copied from a template. Of the 60 using a template, 12 included a footer revealing the sender as a non-resident. A total of 57 were in opposition of the motion, and one we were unable to ascertain its position on the subject. Only two of the emails in opposition appeared to be copied from a template, however both included additional personal messages of why the template articulated their position. There were three emails sent from government provided email addresses, and approximately 23 sent from domains for local businesses. A total of four emails contained lists of named individuals who supported the motion.
While not every name of the 308 emails could be individually validated, a statistically significant percentage of them could not be verified as a Santa Clarita resident, or they were confirmed to not be a resident.
The foreign MAGA Caravan
On the night of the May 8th, 2018 city council meeting, the room was filled with supporters of the motion, and persons in opposition alike. It was a raucous environment, to say the least. Approximately 150 speakers took turns explaining their position, while members in the audience traded barbs and some shouted racial epithets. Of those 150, we have confirmed at least 57 were non-residents. While some of the non-resident speakers were representatives from organizations such as the League of Women Voters, CHIRLA, and National Immigration Law Center, others reported representing "Concerned Citizens Of California," "AG Sessions," and "The Law Abiding CITIZENS (sic) of California."
There were several notable speakers among the crowd. Harim Uzziel / Harim Uziel, Genevieve Peters, Elsa Aldeguer, Jo Reitkopp, Ben Bergquam, Leonor Ferris, and Don Rosenberg, are just a small selection of the anti-immigrant crowd. They are leaders and organizers that orchestrate crowds to attend city council and county supervisor meetings all across California. They are argumentative, boisterous, combative, and outspoken. Their caravan goes from city to city, fostering divisive anti-immigrant discussions, and disrupting the meetings they attend.
Harim Uzziel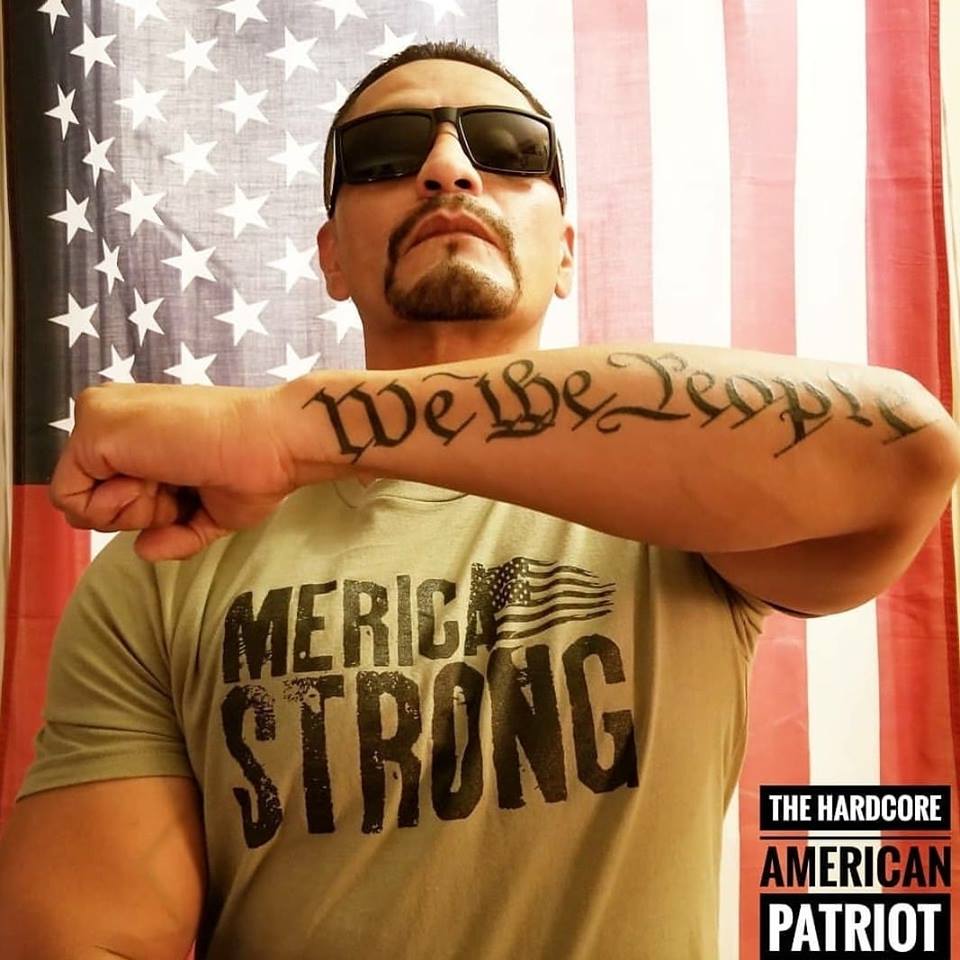 Harim Uzziel, (or Harim Uziel, the spelling differs each time he uses it) is a 45-year-old resident of Redondo Beach. He was a speaker at the May 8th Santa Clarita city council meeting, but neglected to fill out the address portion of the request card. His real name is Harim Vargas, and he calls himself "The Hardcore American Patriot" on one of his Facebook pages. He is among the many people that travel city by city promoting their anti-immigrant agenda. Several of the city council meetings Vargas has attended have had incidents of violence, and one incident in Cudahy where a gun was brandished resulting in an arrest of one man. Vargas himself has gotten kicked off of multiple American Airline flights, after getting into shouting matches with other people on the plane. It was reported that at three different gates, police were called to "a disturbance" involving shouting between passengers. Vargas himself posted several videos of the incidents to his Facebook pages.
Genevieve Peters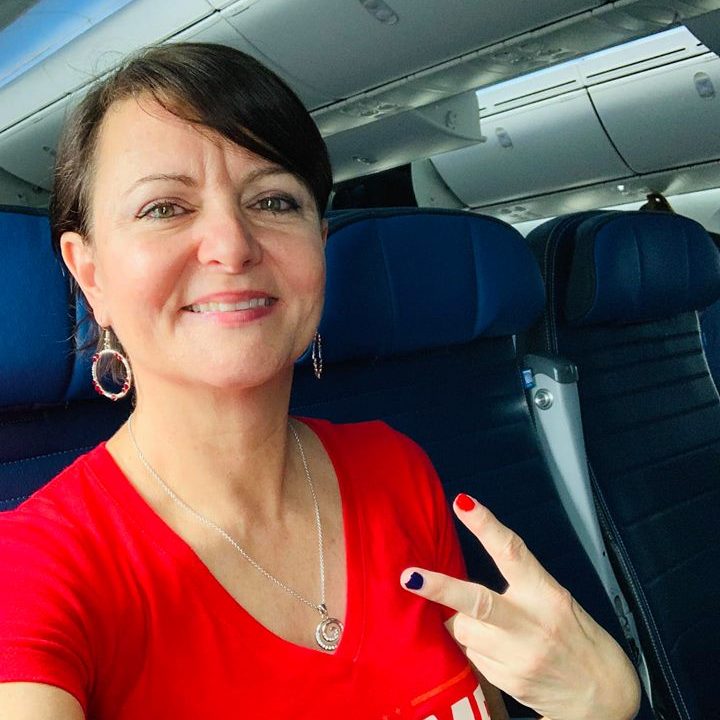 Genevieve Peters, is a 55-year-old resident of Playa Del Ray. She is the head of "Family America Project," and has also gone to multiple city council and county supervisor meetings to proselytize for her anti-immigrant agenda. Peters' political activism goes back to the start of the Tea Party, and calls herself a "Rabid Trump Supporter," and "Passionate American Patriot" on her Twitter. She was a speaker at the May 8th city council meeting. On Twitter, Peters retweets President Trump, Charlie Kirk, James Woods, and other fairly typical right-wing firebrands. She also delves into conspiracy territory, sharing things from accounts like "Deep State Exposed," and anti-Muslim memes while attacking Democrats and "leftists."
Jo Reitkopp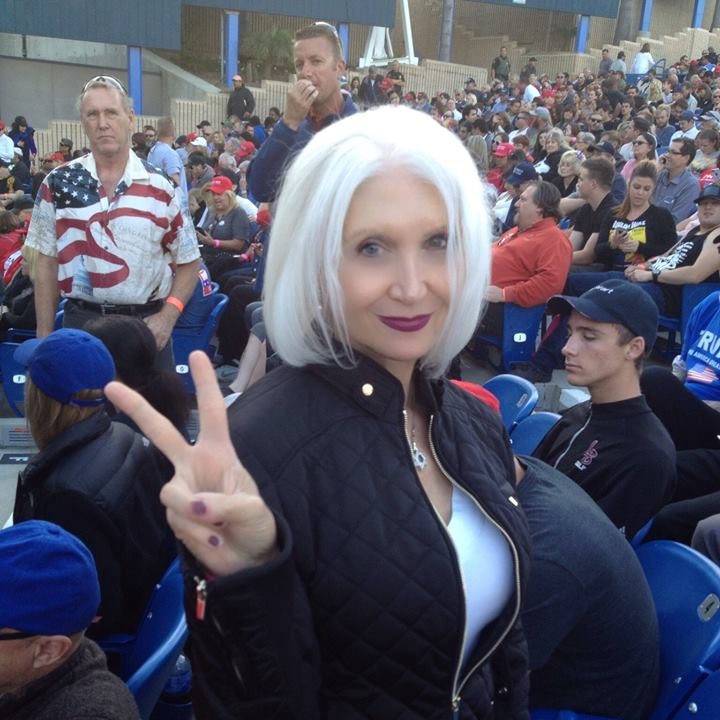 Josephine "Jo" Reitkopp, is a 65-year-old resident of the City of Orange. She is the founder of "Make California Great Again, inc." (C3971396). Reitkopp has attended many city council meetings around southern California, alongside some of the other names appearing here. Reitkopp was a speaker at the May 8th council meeting; she did, however, list her correct address on the speaker card.
Ben Bergquam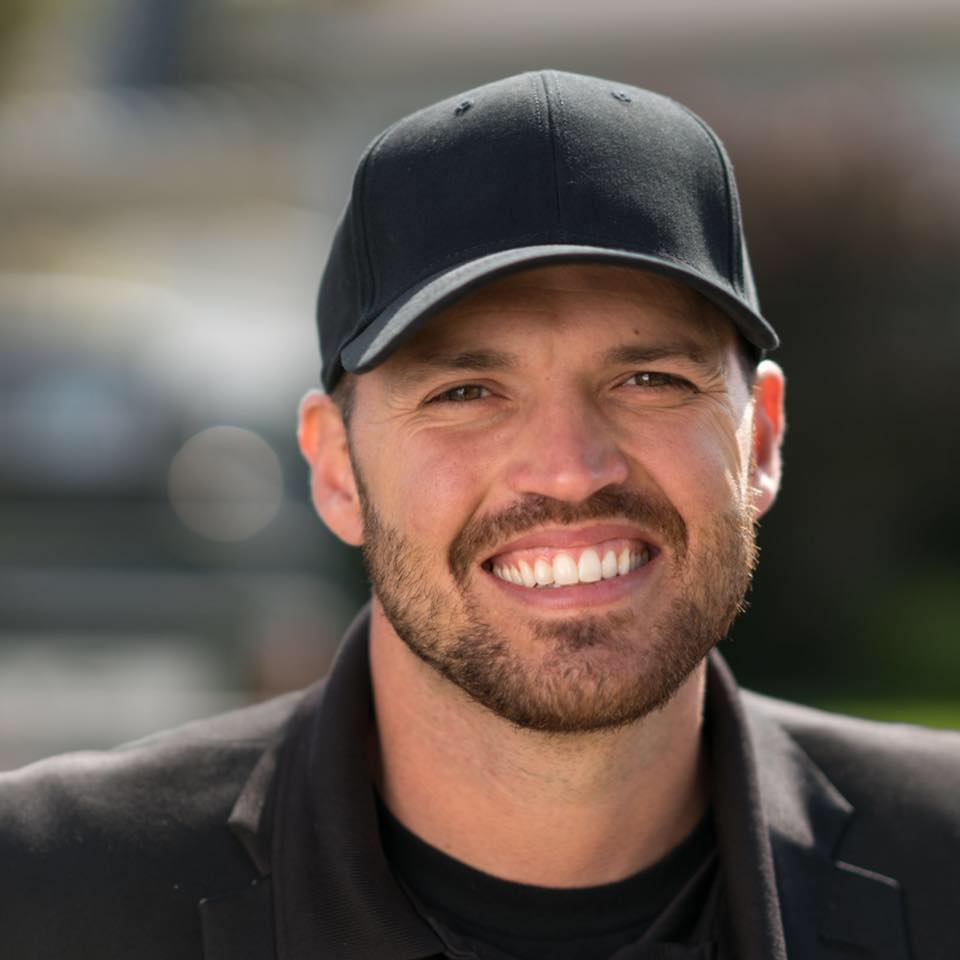 Ben Bergquam is a 35-year-old from Sanger, California. He hosts a conservative/far-right/alt-right radio show "Frontline America With Ben Bergquam." Though Ben was a speaker at the May 8th meeting, he did not fill out his address on the request card. Bergquam is one of the founders of, and spokesperson for a group calling themselves "Fight Sanctuary State," (FPPC ID# 1400288) an offshoot of the "California Freedom & Prosperity Fund" (FPPC ID 1392603) superpac. Bergquam has loaned the "Fight Sanctuary State" PAC $1,800 since its inception, and received over $10,000 in return for campaign consulting. At a Berkeley Pro-Trump rally in 2017, Bergquam was reportedly assaulted. Bergquam and far-right activist Laura Loomer have taken part in publicity stunts, such as scaling a wall on House Speaker Nancy Pelosi's house, and setting up a tent. He has appeared at several city council meetings across the state, preaching his anti-immigrant agenda.
Elsa Aldeguer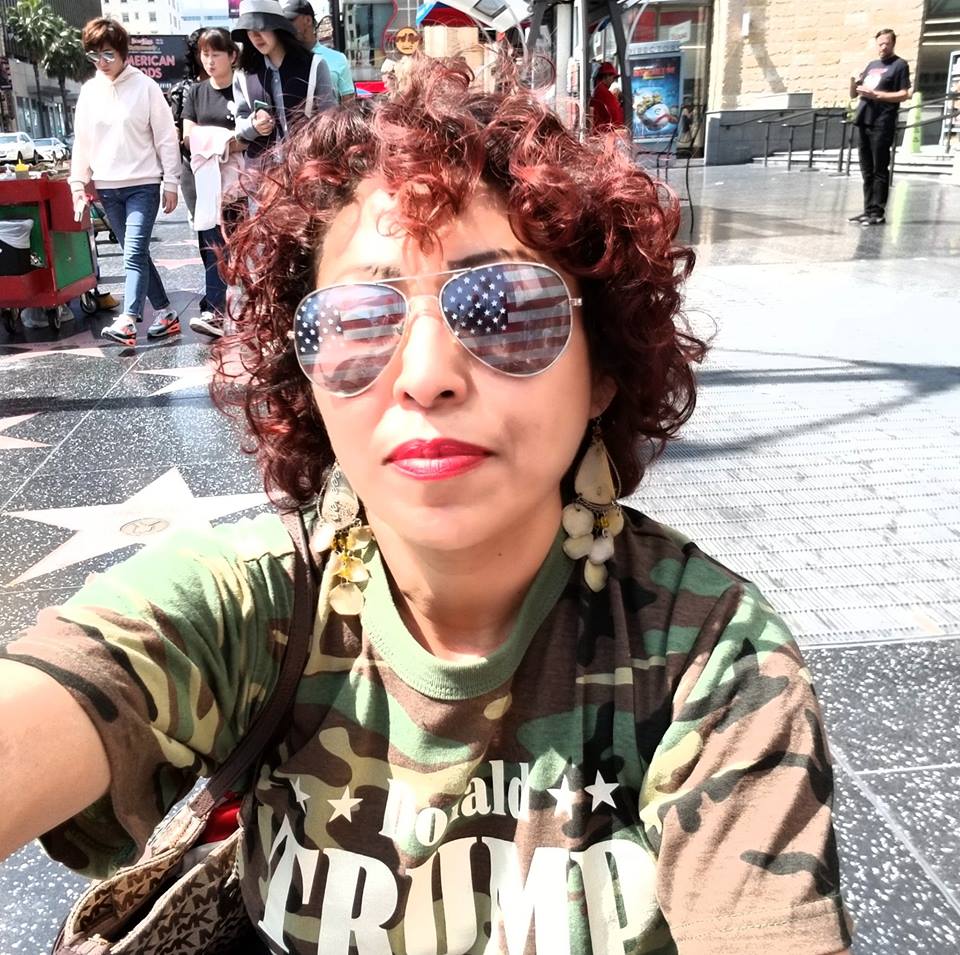 Elsa Aldeguer, also known as Elsa Quintanilla, is a resident of Winnetka, and has been known to appear at city council meetings around the state to speak out against SB 54. Aldeguer is associated with anti-immigration groups "Make America Great Again, inc," "Latinos 4 Trump," and "Family America Project." An avid Trump supporter, she shares pro-Trump photos/videos on social media, as well as conspiracy theories, and debunked myths. Also on her various social media accounts, she boasts about attending city council meetings around the greater Los Angeles area, and often poses for photos in front of the dais with her "Make America Great Again" flag. Aldeguer has several Facebook accounts and often complains on the others when one of them gets suspended. She was one of many in the anti-immigrant community to share an online poll from the Signal, urging people to repeatedly vote.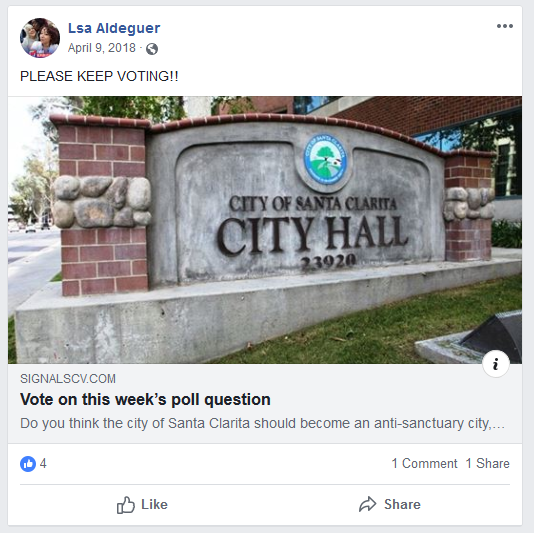 Confirmed foreign MAGA speakers
The persons above are among the most prolific anti-immigrant speakers who travel from city to city spreading their rhetoric. However, there are many more persons that we have confirmed were not residents when they filled out a speaker card for the May 8th city council meeting. While we attempted to delve into the background of all the speakers, at press time we only confirmed the above five persons and their association with anti-immigrant groups. Below is the complete list of people confirmed to not live in Santa Clarita who also filled out a speaker card.
Mark Reed, former candidate for Congress, Woodland Hills
Megan Dowling, Encinitas
Vaughn Becht, Westminster
Frank M. Brossiotti, Tijunga
Amy Odin, Napa
Denise Pedrow, Newbury Park
Victoria Kirschenbaum, Burbank
Leslie Brothers, Santa Monica
Carlos Amador, Granada Hills
Mayron Payes, Pasadena
Julie Diaz Martinez, Moorpark
Eric Gerow, Wofford Heights
Leonor Ferris, Pinion Hills
Louis Reyes, Los Angeles
Krystin Meyers, Costa Mesa
Ingrid Mueller, Beverly Hills
John Willis, Ontario
Fred Macintosh, Laguna Hills
Dura Young, Torrance
Patrice Lynes, Temecula
Jesse Sauve, Fullerton
Greg Susca, La Crescenta
Robert Lauten, Brea
Stella May, Pasadena
Rob Quan, Rosemead
Janet West, San Pedro
Don Rosenberg [Fight Sanctuary State PAC, California Freedom & Prosperity PAC], Westlake Village
Raul Rodriguez, Tustin
Betty Robinson, Pomona
Michael Greer, Los Angeles
Robin Hvidston, Upland
Kira Innis [Ed. Note: Sandra Smith-Innis], Northridge/Corona [conservativebrownchick.com/cashflowfundings.com]
Christine Williams, Rancho Palos Verdes
Kathy Robinson, Burbank
Evelyn Robinson, Pasadena
Mayra Costello, San Fernando
Sam Schwiner, North Hills
Patricia Salazar, Palmdale
Carolina Goodman, Sherman Oaks
Santiago Arce, Palmdale
Lori Billaud, Northridge