Cloning Machine for Austin Dave Breaks Down, Sending Area Into Panic
Santa Clarita – The company that runs the machine responsible for producing clones of local photo journalist Austin Dave announced today that a temporary problem is causing a delay in next weeks shipment of Austin Daves. "We're working diligently on the issue and hope to have it resolved quickly. However, our reserves of Austin Daves is still high enough to last for two or three more days. Possibly more, if we can keep the breaking news incidents to a minimum" read the statement.
The announcement caused some locals to panic, saying "where will we get our breaking news from? We don't have any reliable news outlets up here that can cover everything like Austin! I mean, yeah we've got Devon Miller, or maybe the Signal if you're desperate. But he's a finite and valuable resource, how can the city let this happen?"
Austin Dave clones are remotely operated by the original Austin Dave, known as "Number One," from an undisclosed location in the mountains above Santa Clarita. When breaking news happens, one is dispatched to the scene to broadcast the event on Facebook live. Once the breaking news has been sufficiently covered, the clone tears through the spacetime continuum and disappears. The system was built in response to the valley's growing need for news coverage. "I found it challenging to be in multiple places at once," says Number One about the system, "So when I was approached with this opportunity by the City of Santa Clarita, I immediately got on board. It makes life so much easier for me, I'm no longer having to throw camera equipment into my SUV and race across town to whatever news is happening."
The City of Santa Clarita is expected to spend $5 million annually to maintain and operate the system over the next 10 years. "It's a small price to pay, ok, to have great news coverage from the Austin Daves" said Bill Miranda about the system, "our residents simply wouldn't know what was going on, ok, without them."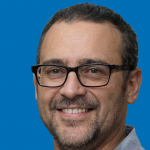 Jerome Horwitz is a Santa Clarita native. His family traces their lineage all the way back to the 1960s when his grandparents moved to the area to start a farm in what is now Castaic Lake. Growing turnips proved unfeasible below water, so they got out of farming and started a donut shop specializing in Bear Claws. Jerome enjoys watching paint dry, and lurking in local Facebook groups.