Introverts Facing Existential Crises as Pandemic Ends, Social Events Resume
Santa Clarita – As California reopens and Governor Gavin Newsome relaxes many of the restrictions put into place during the pandemic, many social introverts are unsure of what the future holds. "Honestly, this pandemic, it's been kinda great. I do a couple of Facetimes or Zooms with friends a month, then just fake that my Wi-Fi goes out, and it's back to life. No more panicking and clamoring for excuses to miss someone's birthday party, don't have to fake an emergency phone call from my mom to leave early. I've loved it. Now what am I supposed to do?" said Brad, 32, over Zoom.
The year-and-a-half-long pandemic has forced many people to do some introspection on what is important to them. Many are eager to get back to seeing people in person again, while others are assuredly going to struggle for some time as they transition back into what society demands of them.
"My biggest fear," continued Brad, "is what to do when I get that first hug? Like, it's been a while since I've had any physical contact with another human. What if, you know, what if something happens, uhh, downstairs? How do I hide that or explain it away?"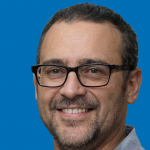 Jerome Horwitz is a Santa Clarita native. His family traces their lineage all the way back to the 1960s when his grandparents moved to the area to start a farm in what is now Castaic Lake. Growing turnips proved unfeasible below water, so they got out of farming and started a donut shop specializing in Bear Claws. Jerome enjoys watching paint dry, and lurking in local Facebook groups.