Valencia Man Excited to Return to Bodhi Leaf to "Finish" His Screenplay
A local Valencia resident is excited for the California Post-Pandemic reopening, as he intends to return to Bodhi Leaf to work on his screenplay. Kyle Evans, 36, hasn't been inside a coffee shop since March of 2020. "I miss the atmosphere, the ambiance, the 'je ne sais quoi,' the environs. There's just something about working on my screenplay around people that really gets the creative juices flowing. I get to talk to people around me, tell them about my screenplay, workshop ideas, it's great" said Evans.
As California reopens after a nearly year and a half-long pandemic, local baristas are sure to suffer as a result of "Kyles" returning to coffeeshops everywhere. "I don't miss having to smile and nod at these guys every day, but it will be a bit refreshing to have it mixed in with the daily rants of unhinged people telling me about how masks are useless, the coronavirus isn't real, and the vaccine is for population control," said one barista, preferring not to be named, "So I guess I do miss the Kyles of the world. Beats having to deal with those maskholes."
The long tail of the pandemic is sure to be felt for quite some time, but a return to normalcy is welcomed by many.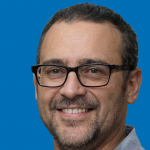 Jerome Horwitz is a Santa Clarita native. His family traces their lineage all the way back to the 1960s when his grandparents moved to the area to start a farm in what is now Castaic Lake. Growing turnips proved unfeasible below water, so they got out of farming and started a donut shop specializing in Bear Claws. Jerome enjoys watching paint dry, and lurking in local Facebook groups.